Automated Organoid Assays
Practical Microfluidics for Bioanalysis
The Pu·MA System
Automated 3D Cellular Assays
The Pu•MA System is a practical and affordable benchtop instrument, ideal for running physiologically complex spheroid and microtissue assays for toxicity testing and oncology discovery as well as diabetes and metabolic disease research. The system fits into standard incubators and provides gas exchange to the cell sample chambers. Complex assay protocols can be setup to automatically run from hours to days.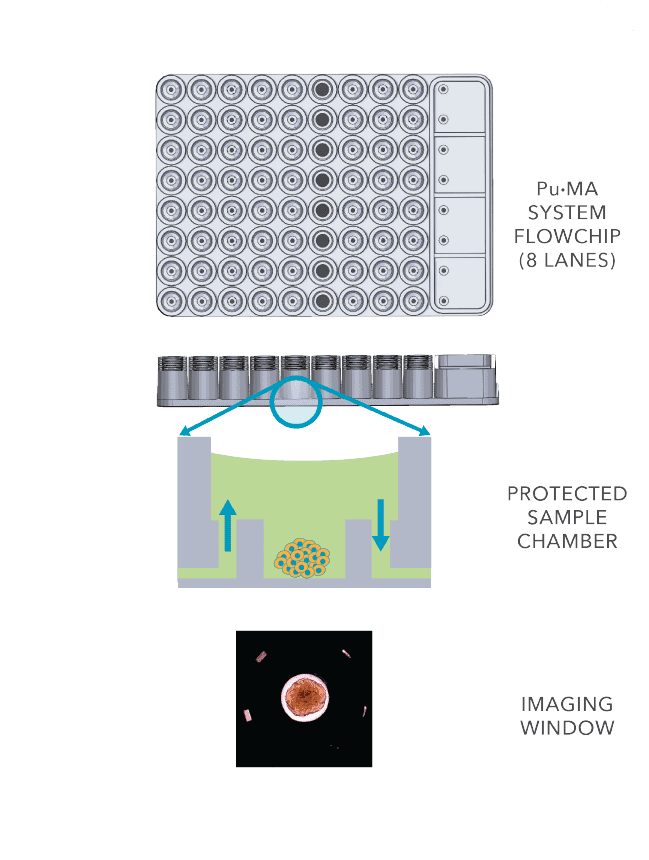 Pu·MA System Benefits
Mimic in vivo conditions
Perform multi-dosing protocols and multiple media exchanges, all within your lab incubator, for extended periods.
Adapt to new assay needs
One system and flowchip accommodates a broad range of cell-based and biochemical assays.
Handle liquids gently
Spheroids and microtissues reside in a protective chamber within the well, shielding cells from flow-induced sheer forces.
Detect results easily
Clear-bottom wells enable use of imagers and point-readers for cell-based and biochemical assays.
Walk-away convenience
Protocols are fully automated, even with multiple media/reagent exchanges.
How it Works
All assay reagents are loaded into reservoirs and then moved one at a time through microfluidic channels by the Pu·MA System. Preloaded protocols execute all fluid transfer and incubation steps. The system incorporates patented valve-less fluidic switching (VLFS) to precisely control fluid movement in a flowchip. Use of microfluidics reduces both required incubation times and reagent volumes.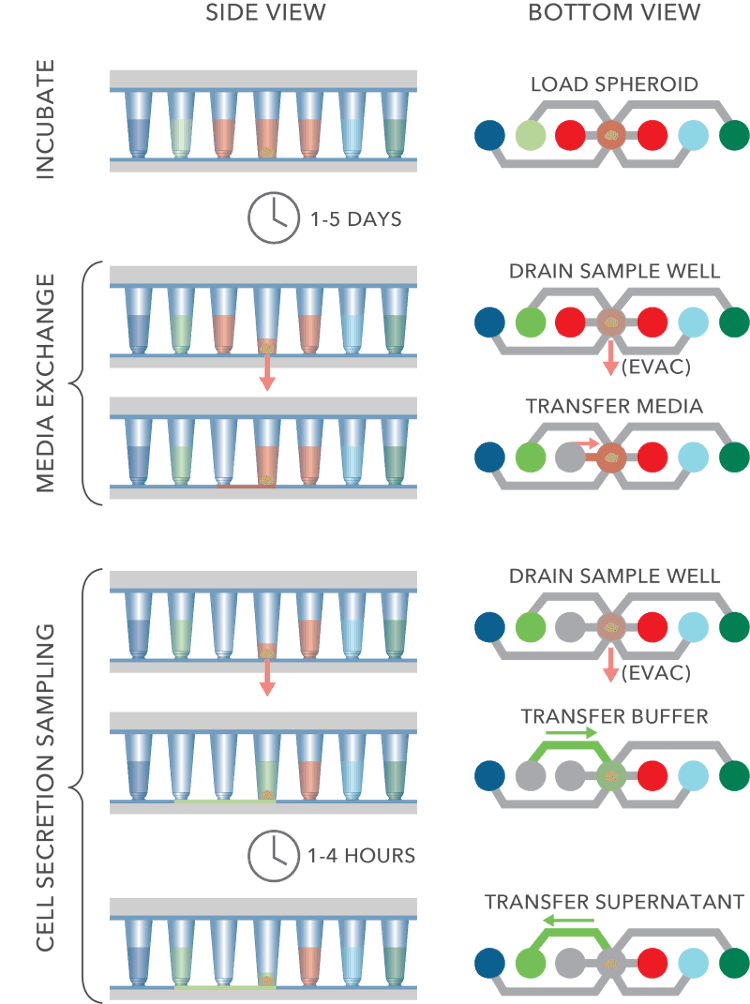 Spheroids or microtissues are loaded into a "protective chamber" in sample wells
32 samples can be loaded per plate
Reagents are loaded into adjacent reservoir wells
Up to six reagents or media
Load with standard single or multichannel pipettes
Pu·MA System automatically performs all reagent transfers
Media exchange, compound addition, etc.

Separate reservoir for waste media and reagents
Enables a wide range of assay readouts
Cell supernatant sampling
High content imaging
ATP viability

Metabolomic sampling

Featured News
December 4, 2018 Protein Fluidics partners with BioLegend to provide Assay Products
May 4, 2018 Protein Fluidics announces the Pu·MA system
October 1, 2016 Protein Fluidics moves into new headquarters in Burlingame, CA
April 6, 2016 Protein Fluidics closes Series seed round of investment
For Research Use Only. Not for diagnostic use. Protein Fluidics, Protein Fluidics Logo and Pu•MA System are registered trademarks of Protein Fluidics, Inc. in the United States and internationally. All rights reserved. © 2020 PROTEIN FLUIDICS, INC.