Automated 3D Cell-Based Assays Using a Novel Flowchip System and High Content Imaging
Poster Presented at SLAS2021 Virtual
 Evan Cromwell, Ph.D
View Poster Synopsis in the Video below
Poster Synopsis
This poster was presented at SLAS2021. We demonstrated the use of the Pu·MA System 3D for automated organoid assays to efficiently perform:
automated drug treatment of spheroids to study phenotypic response
in situ supernatant sampling and analysis of conditioned media from spheroids
high content imaging of spheroids within the flowchips after the assay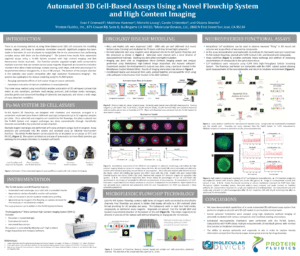 875 Cowan Road, Suite B,
Burlingame, CA 94010
#pumasystem  #flowchip  #3dcellassay
For Research Use Only. Not for diagnostic use. Protein Fluidics, Protein Fluidics Logo and Pu•MA System are registered trademarks of Protein Fluidics, Inc. in the United States and internationally. All rights reserved. © 2021 PROTEIN FLUIDICS, INC.