Automated Immunoassays
Practical Microfluidics for Bioanalysis
The Pu·MA System – Automated Immunoassays
The Pu·MA System is a practical and affordable benchtop instrument, ideal for running low-volume ELISA assays. It is a truly open platform that can run assays using your existing antibody pairs, or with commercially available ELISA kits. The underlying technology is our proprietary Valve-less Fluidic Switching (VLFS) that provides complex fluid control on a simple flowchip. The Pu·MA platform has been designed to fit seamlessly into your current laboratory workflow.
Runs complete ELISA in < 3 hours with "hands-off" processing
Reduces sample and reagent volumes to 10 – 20 μL
Works with your existing ELISA kits and antibody pairs
Multiwell plate format to work with standard Plate Readers
How it Works

The Pu·MA Flowchip and System uses established antibody pairs to perform an automated ELISA. All assay reagents are loaded into reservoirs and then moved one at a time through the "Assay Channel" by the Pu·MA System. Preloaded protocols execute all fluid transfer and incubation steps. The system incorporates patented valve-less fluidic switching (VLFS) to precisely control fluid movement in a flowchip. Use of microfluidics reduces both incubation times and reagent volumes.
Pu·MA System Benefits
High Signal – Large surface area for antibody binding (~30mm2)
Small channels – Low sample and reagent usage (<20μl/well)
Large surface-to-volume ratio – Enhanced kinetics, Faster assay results
Hydrodynamic fluid removal – Less Wash Required
Reagent Loading Setup

All reagents pre-loaded into flowchip
Reagents are transferred one-by-one through the assay channel to form analyte "sandwich" structures
Incubation and Wash steps performed automatically
Substrate reacts with HRP in the channel and then is moved to the Read Well which is pre-loaded with Stop Solution
Open-platform accommodates wide range of assays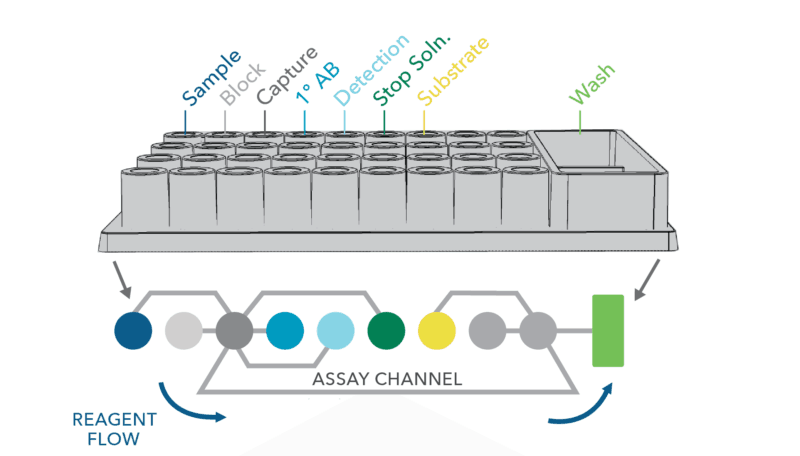 Microfluidic Assay Steps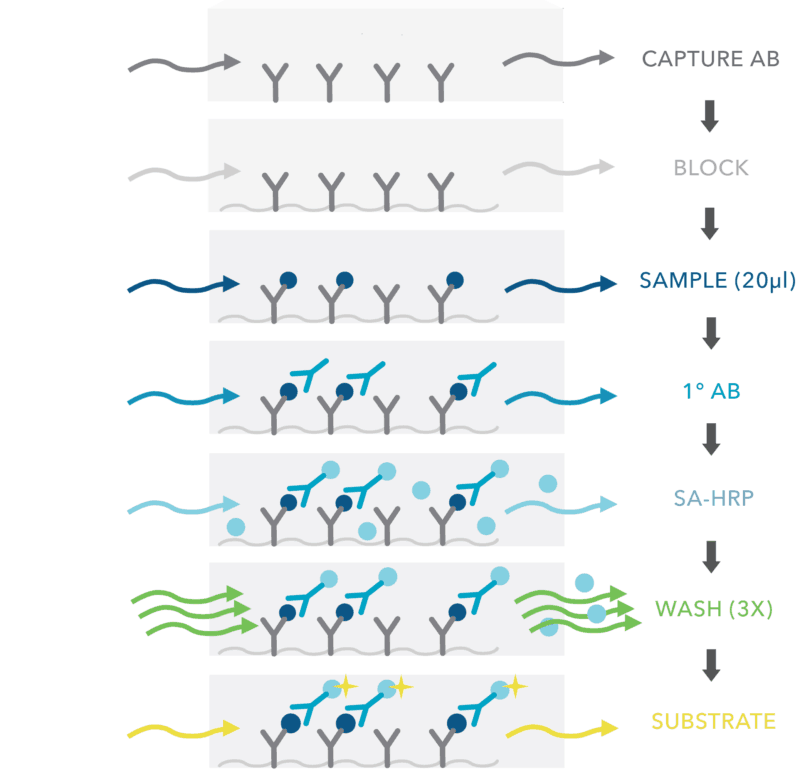 875 Cowan Road, Suite B,
Burlingame, CA 94010
#pumasystem  #flowchip  #3dcellassay
For Research Use Only. Not for diagnostic use. Protein Fluidics, Protein Fluidics Logo and Pu•MA System are registered trademarks of Protein Fluidics, Inc. in the United States and internationally. All rights reserved. © 2021 PROTEIN FLUIDICS, INC.