Introduction
Mouse IL-6 (Interleukin-6) is a cytokine that plays an essential role in the differentiation of B-cells into Ig-secreting cells. It acts in the acute phase reaction, inflammation, hematopoiesis, bone metabolism, and cancer progression. It also induces myeloma and plasmacytoma growth, nerve cell differentiation, and acute phase reactant proteins in hepatocytes. It contributes to chronic inflammation in obesity, insulin resistance, inflammatory bowel disease, arthritis, sepsis, and atherosclerosis. IL-6 signals through a receptor complex of IL-6 R alpha and gp130. gp130 is also a component of the receptors for CLC, CNTF, CT-1, IL11, IL-27, LIF, and OSM. IL-6 is expressed by T cells, B cells, monocytes, fibroblasts, hepatocytes, endothelial cells, and keratinocytes.
Assay Overview
The workflow for the Pu•MA System cytokine immunoassay is shown in the figure below. All assay reagents are prepared in advance and then loaded into Pu•MA System flowchips using single or 8-channel pipettes. The wells are conveniently located on standard 384 multiwell plate spacings. The flowchips are now ready to be loaded into the Pu•MA System for "hands-off" processing. The ELISA steps are automatically performed by the system using pre-loaded protocols. Once the assay is complete, absorbance results are read on your Plate Reader.
Low-volume assays (10-20 μl)
Simple "hands-off" operation
Open platform – no expensive plates
Assay Procedure
The adaption of existing ELISA kits and/or antibody pairs is straightforward with the Pu•MA System. Assay buffers optimized for the Pu•MA System flowchips are provided for sample and antibody dilutions. Blocking solutions and wash buffers are also provided. The IL-6 assays are adapted from BioLegend ELISA Max Kits (p/n 431301, 431302, & 431303).
Assay antibody reagents were prepared according to the dilutions shown in the Table using Pu•MA Assay Buffer (PAB). IL-6 standards were reconstituted according to instruction provided by BioLegend. A 1:2 serial dilution series of Mouse IL-6 Standard was prepared starting at 100 pg/well using PAB. 20 μl of each reagent was added to the appropriate wells (see Fig 3) except for the Stop Solution where 10 μl was dispensed. Four replicates were run per concentration. The flowchips were loaded into a Pu•MA System and processed using the IL-6 Assay Protocol. Plates were read within 5 minutes of being finished on an absorbance plate reader at 450 nm (Tecan Spectrafluor Plus).
Pu•MA System Mouse IL-6 Standard Curve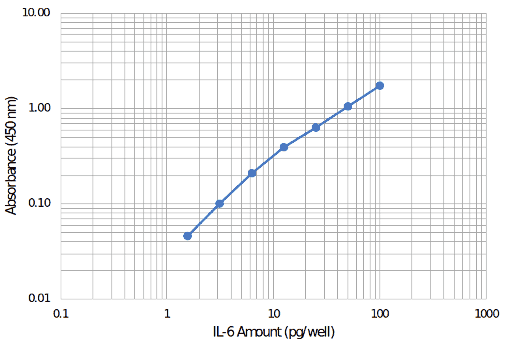 Pu•MA System ELISA
How It Works
The Pu•MA Flowchip and System uses established antibody pairs to perform an automated ELISA. All assay reagents are loaded into reservoirs and then moved one at a time through the "Assay Channel" by the Pu•MA System. Preloaded protocols execute all fluid transfer and incubation steps. The system incorporates patented valve-less fluidic switching (VLFS) to precisely control fluid movement in a flowchip. Use of microfluidics reduces
both incubation times and reagent volumes.
Name
Reagent
Source
Capture Ab
Mouse IL-6 ELISA Max Capture
Antibody (1:100)
BL
Block
Pu•MA Blocking Buffer
PFI
Sample
Mouse IL-6 Standard
BL
1°Ab
Mouse IL-6 ELISA Max Detection
Antibody (1:100)
BL
2°Ab
Avidin-HRP (1:5K)
BL
Wash
Pu•MA Wash Buffer
PFI
Substrate
FAST Substrate
PFI
Stop
Pu•MA Stop Solution
PFI
Microfluidic Assay Workflow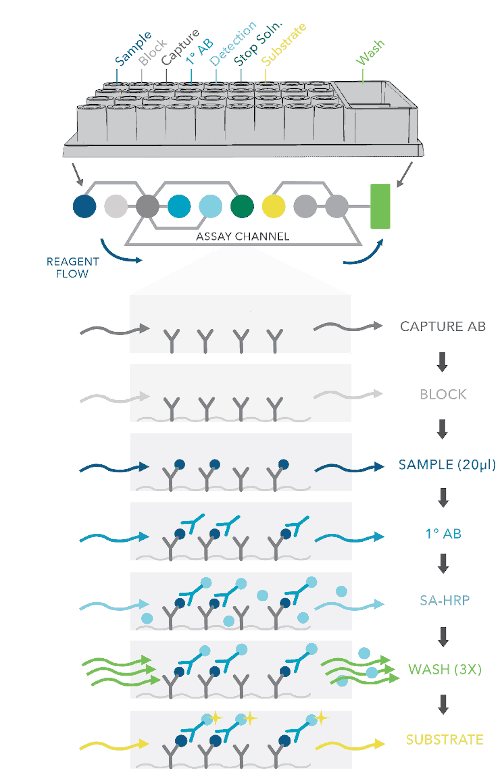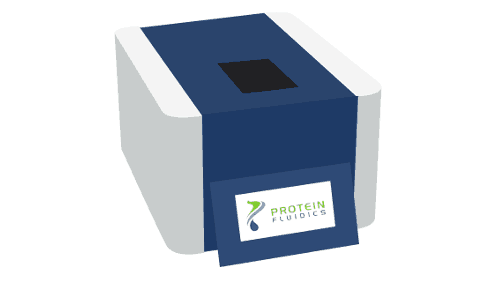 Pu•MA System
Compact benchtop system
Easy top-loading of flowchips
Precision pneumatic control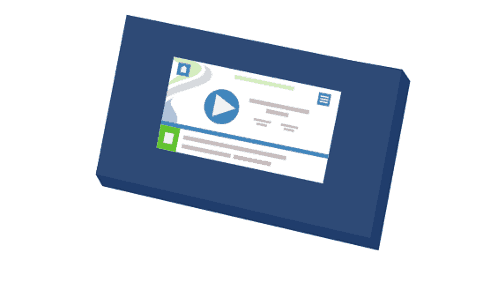 Software
Touchscreen-driven interface
Preloaded assay protocols
Simple Select and Run operation
Reagents & Flowchips
Validated immunoassays
Open platform for existing Ab pairs
Works with standard pipettors & tips