The Pu·MA System Flowchips for pneumatically driven microfluidic assays
Protein Fluidics' Pu·MA System is a practical and affordable benchtop instrument that automates a wide range of biochemical and cell-based assays. It is a truly open platform that integrates sophisticated microfluidic handling within your current laboratory workflow to deliver robust assays results that are easier and less expensive to run.
Automated low-volume reagent transfers
Compact system – fits on your bench or in your incubator
Multiwell plate format – seamlessly integrates with liquid handlers and plate readers
Reduces sample and reagent volumes to 10 – 20 μL
Valve-Less Fluidic Switching
The underlying technology is our Valve-less Fluidic Switching (VLFS) that provides complex fluid control on a simple flowchip. This patent-pending technology allows precise fluid control in a microfluidic device without the need of mechanical microvalves or integrated moving parts.
Enables a broad range of cell-based, homogenous biochemical and heterogeneous immunoassays
Programmable and automated flow switching and combinatorial mixing
Uses hydrophobic barriers to control fluids – no integrated valves or pumps
Capillary Fluid Flow Control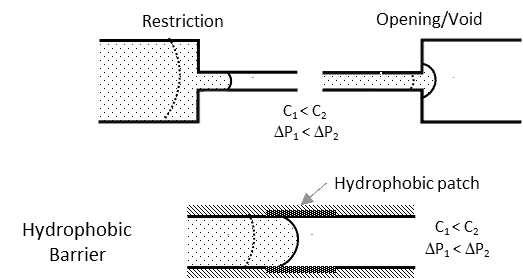 How does it work?
Microfluidic flowchips are set up as a combination of Reservoirs (A,B,C & D) and Nodes (N) connected by channels. Hydrophobic barriers are used to keep fluids in desired wells. Pneumatic pressure gradients are applied to transfer fluid from one Reservoir to another via a Node. An example is shown below where two reagents are transferred to different wells through the same Node. Watch a movie of VLFS in action!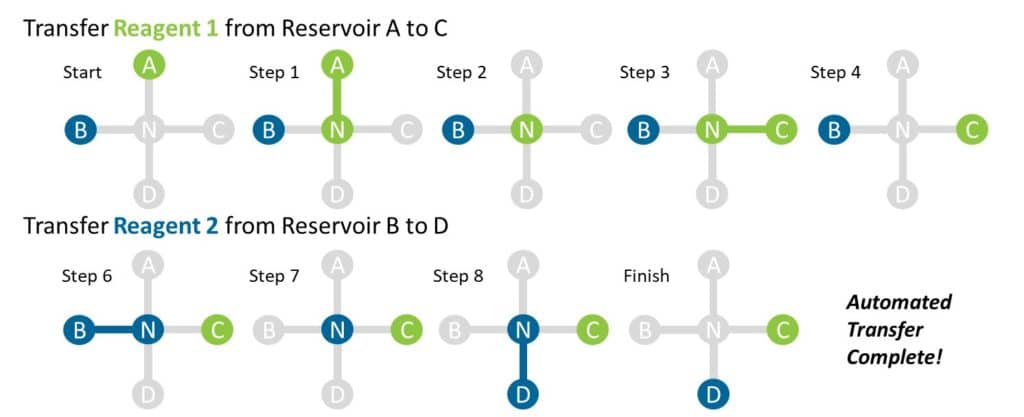 875 Cowan Road, Suite B,
Burlingame, CA 94010
#pumasystem  #flowchip  #3dcellassay
For Research Use Only. Not for diagnostic use. Protein Fluidics, Protein Fluidics Logo and Pu•MA System are registered trademarks of Protein Fluidics, Inc. in the United States and internationally. All rights reserved. © 2021 PROTEIN FLUIDICS, INC.