Toxicity Testing and Imaging
Toxicity Testing and Imaging
Spheroids and other 3D cell models are routinely used for toxicity testing and screening. We have demonstrated that using the Pu·MA System 3D you can perform automated assays which combine drug treatments and imaging.
You perform automated drug treatments during the course of the assay without disturbing the spheroid and subsequently transfer staining solution, followed by confocal imaging within the flowchips.
The tabs below showcase this application of toxicity testing and imaging using the  Pu·MA System.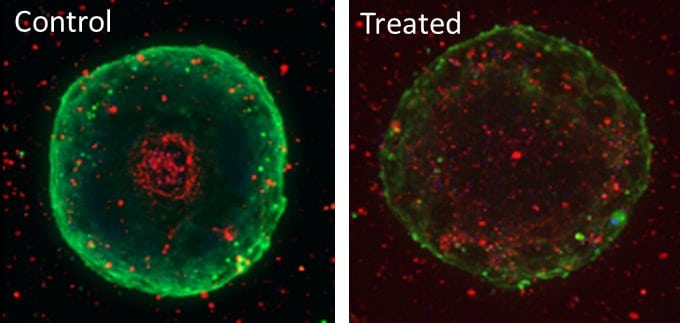 Pu·MA System 3D for Spheroid Toxicity Testing and In Situ Imaging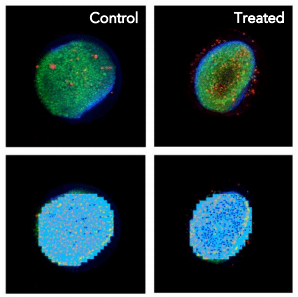 This application note demonstrates the use of the Pu·MA System for spheroid treatment with drugs followed by in situ lysis for preparing samples for downstream metabolomics analysis.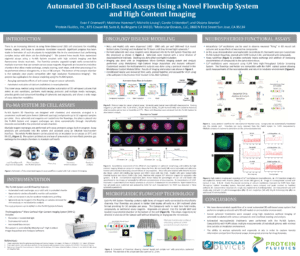 Automated Long-Term 3D Cell-Based Toxicity Studies Using a Flowchip System
We presented data about how you can single spheroid drug treatment and dosing. The spheroid samples were lysed within the incubator and samples analyzed for metabolic changes. 
Toxicity Testing and Imaging Workflow
Organoids, media and reagents are loaded into the flowchips. The Pu·MA System performs the automated steps described below in the workflow.

875 Cowan Road, Suite B,
Burlingame, CA 94010
#pumasystem  #flowchip  #3dcellassay
For Research Use Only. Not for diagnostic use. Protein Fluidics, Protein Fluidics Logo and Pu•MA System are registered trademarks of Protein Fluidics, Inc. in the United States and internationally. All rights reserved. © 2021 PROTEIN FLUIDICS, INC.