Use of Patient Derived Tumoroids to Model Triple Negative Breast Cancer
Poster Presented at MDIBL2021 Symposium
June 2-4, 2021
Evan Cromwell, Ph.D
Poster Synopsis
This poster was presented at MDIBL2021 Symposium: Applications of Organoid Technlogy. In collaboration with Matt Burow's group at Tulane University and Oksana Sirenko and her team at Molecular Devices, Inc, we have demonstrated the use of the Pu·MA System 3D for assays to efficiently perform:
automated drug treatment of patient-derived tumoroids to study drug response
immunofluorescence staining of tumoroids
high content imaging of tumoroids within the flowchips after the assay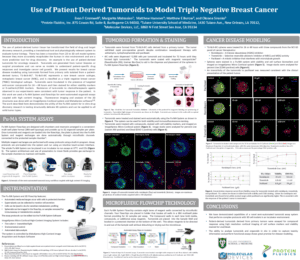 875 Cowan Road, Suite B,
Burlingame, CA 94010
For Research Use Only. Not for diagnostic use. Protein Fluidics, Protein Fluidics Logo and Pu•MA System are registered trademarks of Protein Fluidics, Inc. in the United States and internationally. All rights reserved. © 2021 PROTEIN FLUIDICS, INC.